Matching National Standards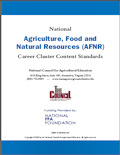 All AgEdNet.com lesson materials have been matched with the National Council for Agriculture Education's "National Agriculture, Food and Natural Resources (AFNR) Career Cluster Content Standards." We are excited to provide this valuable information for all our subscribers.

Lessons:

Each AgEdNet.com lesson lists matching AFNR standards. See individual lessons.

By Content Standards:

AFNR standards are listed with matching AgEdNet.com lessons.

The AFNR standards are divided into nine areas:

Complete document:

The complete national standards document can be viewed at the Council's Team AgEd Learning Center website. The national standards page is not part of the AgEdNet.com website. To view the complete document, go to this link: National AFNR Career Cluster Content Standards

To subscribe to AgEdNet.com or for a "free trial,"
call us toll-free at 800-236-7862.

Back to top